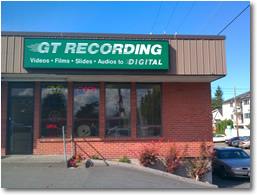 GT RECORDING is a Seattle based company involved in the audio, video and film industry for over 30 years.
We closely follow the changes in technology, understanding old formats as well as cutting edge digital technologies, and are involved in all phases of recording, duplication, restoration, preservation and distribution.
We provide services for both individuals and organizations across the nation and worldwide. Experienced problem solvers with attention to integrity and detail, our dedicated seasoned in-house technicians utilize and engineer top quality processes. We have a lossless approach to tape and film preservation maintaining the original quality without altering or degrading from archetype media.